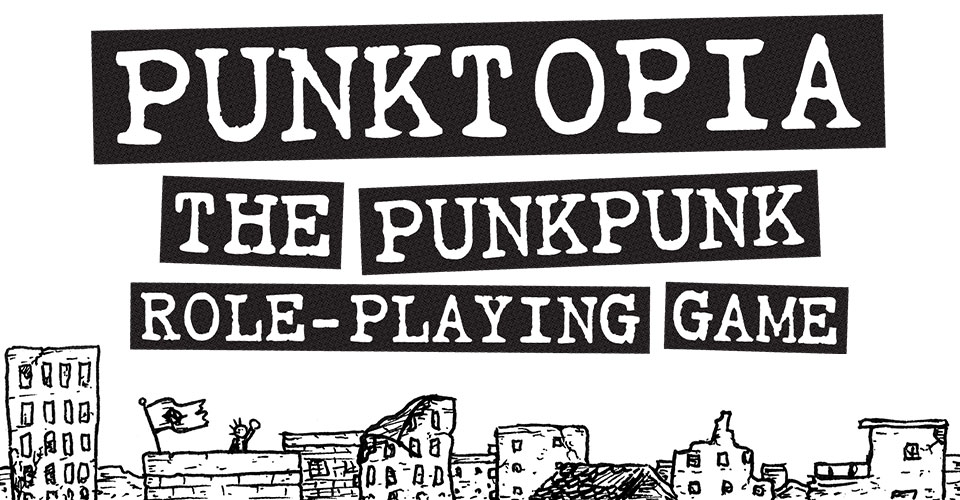 Punktopia: The Punkpunk Role-Playing Game
Welcome to Punktopia, a tabletop role-playing game of absurdist adventure in a world gone punk!
Step into the dystopic punkrock paradise of Punktopia, where your biggest worry is how hard to rock... Also dealing with rival groups of punks, and of course the ever-present threat of attack from the anti-punk forces of The Man, who want to destroy Punktopia and the punks who call it home.
Punktopia uses a simple rules-lite system that's quick and easy to learn, and designed specifically for fast-paced and flexible gameplay to accommodate whatever types of punkrock shenanigans you can get yourself into. Characters can be created and ready for punkventure in just a few minutes, with an option of five different punk archetypes like the rowdy Hooligan, boisterous Loudmouth, and mystical Punxomancer.
All you need is some friends, ten-sided dice, and most importantly, attitude! Okay, the other things are probably more important, but attitude is important too.

Purchase
In order to download this game you must purchase it at or above the minimum price of $10 USD. You will get access to the following files:
Punktopia Mobile Edition.pdf
3 MB
Punktopia Punk Sheets.pdf
156 kB
Up the Punx!
Support this game at or above a special price point to receive something exclusive.
Zine Edition
A beautifully-printed copy of Punktopia you can hold in your grubby little punk hands.
Please remember to fill out the address field.